Javol Vision in Charge of Temperature Measurement and Epidemic Prevention Exclusively in The 3rd world Laureate Forum
Javol Vision in Charge of Temperature Measurement and Epidemic Prevention Exclusively in The 3rd world Laureate Forum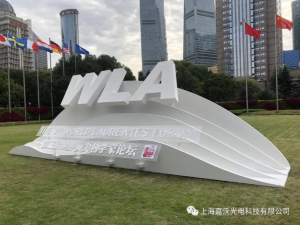 Javol Vision in Charge of Temperature Measurement and Epidemic Prevention Exclusively in The 3rd world Laureate Forum

The 3rd world Laureate Forum opened on the morning of October 30th 2020, President Xi Jinping delivered a video speech. Li Qiang, Secretary of the Shanghai Municipal Party Committee, Huai Jinpeng, Secretary of the Party Leadership Group of the China Association for Science and Technology, and Roger Kornberg, Chairman of the World Top Scientists Association delivered speeches respectively. Gong Zheng, deputy secretary of the Shanghai Municipal Party Committee and Mayor, presided over the opening ceremony.The forum was held at the Shanghai International Convention Center. Top scientists, education experts, primary and secondary school principals, and young scientists gathered together to talk about youth science education.
Shanghai Javol Vision Photoelectric Technology Co., Ltd is an enterprise that integrates machine vision and artificial intelligence. Depending on multi-spectral and high sensitivity photoelectric sensor chip of advanced compound semiconductor materials, the deep learning AI algorithm is used as the engine to integrate low light level night vision technology, infrared thermal imaging technology, short wave infrared(SWIR)technology and multi-spectral fusion technology, the company designs, develops and manufactures advanced imaging technology products and system solutions, which are widely used in machine vision, automatic driving, UAV load, high-end manufacturing and medical diagnosis and other markets application
"Technology is for the common destiny of mankind" Since the outbreak of the covid-19, countries have worked together to find ways to fight the epidemic. With practical actions to help the prevention and control of the epidemic, Jiawo became the only designated partner for epidemic prevention during the WLA summit. It lived up to expectations and successfully completed the summit's service and guarantee work..