What is Shortwave Infrared?
Short-wave infrared (SWIR) light is generally defined as light in the wavelength range of 0.9–1.7µm, but can also be classified as 0.7–2.5µm. Since silicon sensors have an upper limit of about 1.0µm, SWIR imaging requires unique optics as well as electronics capable of operating in a specific SWIR range. Indium gallium arsenide (InGaAs) sensors are the primary sensors used in SWIR imaging, covering the typical SWIR range but can be as low as 550nm and as high as 2.5µm. While linear line scan InGaAs sensors are commercially available, area scan InGaAs sensors are generally ITAR limited.
ITAR, International Treaty and Arms Regulations, enforced by the Government of the United States of America. ITAR restricted products must comply with strict import and export regulations before they can be manufactured and/or sold in or outside the United States. However, lenses such as SWIR can be used in many commercial applications with the proper license.
Why use SWIR?
Unlike mid-wave infrared (MWIR) and long-wave infrared (LWIR) light, which is emitted from the object itself, short-wave infrared is similar to visible light in that photons are reflected or absorbed by the object, providing the strong contrast needed for high contrast. resolution imaging. Ambient starlight and background radiation (Luminous) are natural emitters of SWIR and provide excellent illumination for outdoor nighttime imaging.
Lenses designed, optimized, and coated for the SWIR wavelength range must be used. Using lenses designed for the visible spectrum results in lower image resolution and higher optical aberrations. Since SWIR wavelengths pass through the glass, lenses, and other optical components (filters, windows, etc.) designed for SWIR can be fabricated using the same technology as visible light components, reducing manufacturing costs and allowing the use of protective windows and filters within a system.
Using SWIR enables a large number of applications that are difficult or impossible to perform using visible light. Water vapor, fog, and certain materials such as silicon are transparent when imaged in SWIR. Also, using SWIR it is easy to distinguish colors that appear nearly identical in visible light.
Applications of short-wave infrared cameras
SWIR infrared cameras are used in a variety of applications including electronic board inspection, solar cell inspection, product inspection, identification and classification, surveillance, anti-counterfeiting, process quality control, and more. To understand the benefits of SWIR infrared imaging, consider some visual examples of common everyday products that use visible light and SWIR imaging.
Shortwave Infrared (SWIR) defines a specific wavelength range within which optical and electronic components are designed and coated. SWIR imaging has many advantages over visible light when used for inspection, sorting, surveillance, quality control, and many other applications. It is important to select components designed, optimized, and coated for the SWIR wavelength range to ensure the highest resolution and lowest aberrations. If you are planning to purchase a SWIR imaging camera, please
contact us
.
JAVOL is a professional
custom infrared camera core manufacturer
, which can design, develop and manufacture advanced imaging technology products and system solutions based on low-light night vision technology, infrared thermal imaging technology, short-wave infrared technology, and multi-spectral fusion technology. In the future, we will continue to develop new solutions, enrich different models and functions that can be satisfied in different application scenarios, enhance artificial intelligence and image enhancement algorithms, so as to provide our valued customers with humanized products and applications.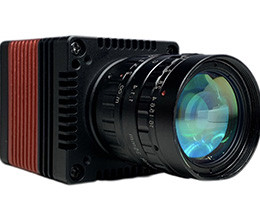 SWIR 640 thermal imaging camera adopts the latest advanced InGaAs sensor,which has many advantages.